How do you celebrate Women's History Month? You attend the International Women's Courage Award ceremony at The State Department.

On March 6, 2015, I attended the International Women of Courage Awards at the U.S. Department of State. The State Department folks were very informative and transparent about their goal to engage citizens in new ways.
The one intention I have observed by both The White House and The State Department is that they want to  to inform and share information with citizens–the digital citizen. The use of digital technology allows the federal government to talk to a citizen directly rather than through news organizations. This is the first time in history that the federal government can use technology to have two-way conversations with citizens with ease.
The State Department seems proactive when it comes to social media use because it appears they try to ensure they are everywhere on social media to help guide citizens to the proper information about foreign policies and issues. I have a long list of social media sites at the bottom of this post where you can find the State Department online. I was impressed to find they even hold Google hangouts with citizens about issues around the world. They even create Twitter hashtags to encourage observers to partake in the conversation.
As with all new technology, there's a learning curve–even for the federal government. Mistakes will happen, but it's what we all learn from those mistakes that make all of us better in understanding the limitations to the technology we use. The federal government it appears takes this approach as well. But to reach different audiences–an audience who will intelligently contribute-is about creating content that engages a conversation. One such conversation the State Department is willing to have is about the treatment of women around the world.
Former Secretary of State Condoleeza Rice started International Women's Courage Awards in 2007. This ceremony celebrates ten women from around the world who have made a difference in women's issues.
Each year, the State Department also selects a few social media gurus to attend the International Women of Courage Award ceremony.
The International Women of Courage Award Winners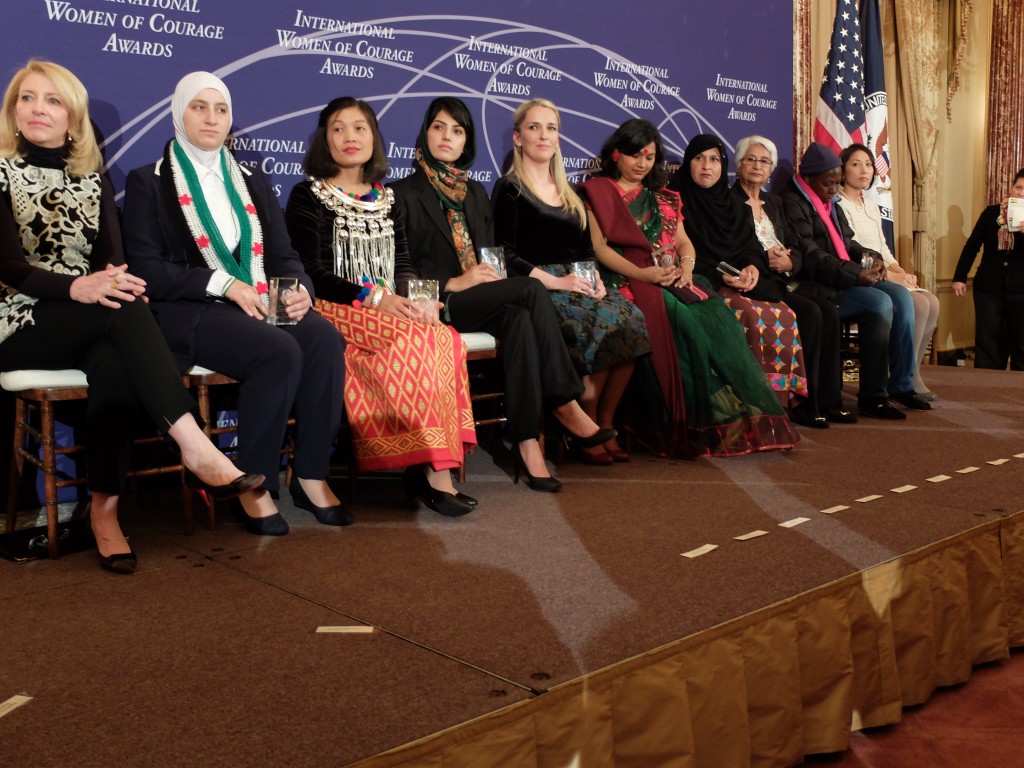 Captain Niloofar Rahmani (Afghanistan)
Afghan Air Force
Nadia Sharmeen (Bangladesh)
Journalist
Rosa Julieta Montano Salvatierra (Bolivia)
Founder and Director, Oficina Juridica para la Mujer
May Sabe Phyu (Burma)
Director, Gender Equality Network

Beatrice Epaye (Central African Republic)
President, Fondation Voix du Coeur
Marie Claire Tchecola (Guinea)
Emergency Room Nurse, Donka Hospital
Sayaka Osakabe (Japan)
Founder and Representative, Matahara Net
Arbana Xharra (Kosovo)
Editor-in-Chief, Zeri
Tabassum Adnan (Pakistan)
Kwendo Jirga (Sister's Council), Swat, Pakistan
Majd Chourbaji (Syria)
External Relations Director, Women Now for Development Centers
You can read the women's complete biographies here on The State Department's website.
The Meetup
The event started with a State Department briefing from officials about the event and about the State Department's strategies for engaging citizens.
After getting to know State Department officials, the Meetup participants were ushered to the Benjamin Franklin State Dining Room where they held the award ceremony. The room was beautiful.
Disclosure note: The State Department's event was originally scheduled for March 5, but because of a pesky snow storm, the federal government shut down. The event was scheduled for the next day, March 6. Unfortunately,  First Lady Michele Obama who was scheduled to attend the award ceremony on the 5th had to miss the rescheduled event. I will say, the State Department went beyond my expectations to keep us all informed and engaged in the planning process. I am very happy I rescheduled my flight to attend the event because I would have missed out on such a great learning experience and the inspirational stories about such strong women who have persevered to make lives of women better in their countries.
Even though the room was filled with journalists, State officials and us, four Meetup participants, the event itself felt intimate. The crowd was genuinely warm and inviting–exactly the feeling you want when you are honoring such courageous women, who for some, put their lives in danger to better the lives of others.
Heather Higgenbottom shared this story about an award winner last year that shows how adversity can lead to strength:
These ten women are an inspiration to me and to so many around the world, and, I know, all of you in this room. They are leaders and role models. So I want to leave you with one last story today. Last year, a young woman from India who was honored in this ceremony, named Laxmi, recited a poem. Laxmi was the victim of a brutal acid attack that left her face burned and scarred. She stood here and told the world that Thursdays would always remind her of her attacker. But despite her injuries, despite the pain suffered and the scars both visible and invisible, she would live her entire life as a testament. "You will know that I am alive," she said, "free and thriving and living my dreams."
After each award was given out, Nadia Sharmeen, a journalist and fellow awardee, was chosen to deliver the final speech.  My favorite part of her speech:
If I would like to introduce myself, I would say I am a dreamer. But the difference between the other dreamer and me is that I keep my eyes open while dreaming. (Laughter.) I work hard, face challenges, go through a lot of difficulties and obstacles to make my dream come true, and I believe every awardee we see there are just like me, who struggled their whole life just to accomplish their goal, just to serve the society.
After the ceremony, the crowd mingled with the award winners. The State Department organized an event filled with music, food and drinks.
I met some very interesting people who work at the State Department
And, I made friends with people who made the day a bit brighter.
The Meetup group. We were the last ones out of the Ben Franklin room. We all had a lot of fun. We all had diverse backgrounds, but a commonality–we all walked away inspired.
 Social Media at the State Department
Click here for more photos of the 2015 Secretary of State's International Women of Courage Award Ceremony
You can find The State Department on these social media venues:
The State Department discussing the 2015 #IWOC:
Follow the hashtag #IWOC to learn more about these women of courage:
{ 0 comments }